Montale Vanilla Extasy Edp Decant/Samples Ps

Sale
Rs. 705.00

Regular price

Rs. 750.00
Vendor: Montale
Type:
Sku: null
Available: Available
Currently there are
peoples are currently looking at this product
Montale Vanilla Extasy is an Oriental vanilla fragrance for women. This Eau de Parfum from a French perfume brand which is noted for its love of fragrances from the Orient and Arabia and for its interest in their enchanting history offers a distinctive, sensual, complex and utterly delicious concept of the vanilla fragrance. As with all the fragrances from the Montale brand, the greatly admired, yet somewhat enigmatic Pierre Montale has given the Vanilla Extasy Eau de Parfum an original character evoking a miraculous elixir or a rare magical salve.
The aromatic composition of the Vanilla Extasy Eau de Parfum by Montale consists of notes of vanilla, jasmine, ylang-ylang, sandalwood, mahogany, benzoin, apricots and apricot blossom and of resinous tones. The overall aroma, which sets the vanilla aspect among balsamic, woody, powdery and warm spicy attributes, is complex, seductive and utterly delicious. As the name promises, Vanilla Extasy is able to bring those who love vanilla and vanilla fragrances to a state of genuine ecstasy.
Pierre Montale has created another highly original Eau de Parfum in which vanilla plays the role of a mature seductress, true heavenly bliss in a bottle, as if the time he spent in Saudi Arabia had imbued the brand's founder and the creator of all the perfumes in its portfolio with the mysterious abilities of an Oriental sorcerer. Like all of Pierre Montale's fragrant creations, the Vanilla Extasy Eau de Parfum has been created using natural materials of the highest quality and in high concentrations which ensure that the fragrance has a long-lasting effect.
The Vanilla Extasy Eau de Parfum by Montale is suitable for day and evening wear, all year round. However, its warmth stands out best in the cooler months. It will mainly appeal to women who like Oriental vanilla fragrances and vanilla in general. Every lady who appreciates true quality combined with originality and who likes to feel the breath of the magic of the Orient upon her should also try Montale Vanilla Extasy.
In addition to magical scents with masterfully balanced aromatic compositions, all the perfumes by Montale also come with captivating, original packaging. The design is enchanting thanks to its straightforward and pure elegance, which, in the case of Vanilla Extasy, has been enhanced with the use of an attractive silver colour scheme, while the practical selection of the material also makes the flacon unique. Pierre Montale has made the original choice of an aluminium flacon which provides the perfume with perfect protection.
Montale Vanilla Extasy – a sensual, complex and delicious ode to vanilla.
The French niche perfumes by Montale are noted for their love of fragrances from the Orient and Arabia and their enchanting history. Every bottle combines the mysterious atmosphere of the East with the passion of its creator and founder, Pierre Montale. Every fragrance by this original brand is literally an elixir of happiness.
Montale was founded in Paris in 2003 by Pierre Montale, for many a mysterious perfume designer who first spent some time in Saudi Arabia, where he created perfumes for the nobility and kings and queens. After his return to Paris, he began to create original fragrances.
He always selects natural materials of the highest quality, especially rare woods, for his fragrances. They often contain eagle wood too, known as oud. They are also often referred to as 'liquid gold'.
Fragrance Notes : Apricot, Apricot Blossom, Jasmine, Vanilla, Resin, Sandalwood, Benzoin, Ylang-Ylang, Mahogany
WHY DO WE SELL DECANTS?
Because there are so many fragrances and so little time! We sell samples which are a wonderful way to try many fragrances before deciding on the full bottle you know you will love. Samples offer the ability to wear perfume for a week or more and decide if that fragrance is right for you. Once you sample fragrances and find ones that you love, you can buy a full bottle from another E-tailer, department store or perfume boutique.
WHAT YOU RECEIVE: You pick the scent and the size, then we decant from the original bottle or vessel into a brand new sterile glass spray (please note 1ml samples are not sprays). We label each decant and carefully package to prevent leakage. To assure you that you get the exact amount listed for each decant bottle, we use medical measuring devices so that each bottle is filled the exact amount. Please note, there is air space left at the top of the bottles which is important for pressurization in atomizers. Air space does not mean you received less than the amount listed. Please understand before purchasing, you will NOT receive an original bottle of perfume from the manufacturer. However, you WILL receive a re-packaged, unaltered, freshly and expertly hand-decanted scent.
DECANTING PROCESS: Each vessel is hand decanted after payment and moments before shipping from our bottles of authentic fragrances. We use sterile medical pipettes designated for each fragrance, or the perfume is sprayed or poured directly from the original bottle.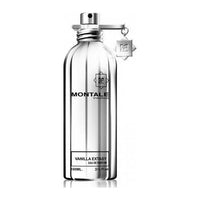 Montale Vanilla Extasy Edp Decant/Samples Ps
- 10ml
Rs. 705.00