Chanel N°1 De Chanel L'Eau Rouge Sample/Decants

Sale
Regular price

Rs. 1,000.00
description
The red camellia is a flower unlike any other and the key ingredient in N°1 DE CHANEL. A flower with revitalising powers, whose extraordinary energy gives it perennial youth.
CHANEL Research has harnessed its exceptional properties to create a new generation of beauty products, including skincare, makeup and a fragrance mist.
At the core of the N°1 DE CHANEL beauty line, red camellia extract targets stage N°1 of the skin's aging process, working to prevent and correct the appearance of the 5 signs of aging.

The red camellia is soft and delicate, yet extraordinarily strong and resilient. An exceptional source of vitality, for a youthful glow. Olivier Polge drew inspiration from both of its dimensions for L'Eau Rouge, the revitalising fragrance mist: one that is fresh, sparkling and dynamic, the other soft and delicate. The tone is set from the very first notes of the fragrance; it opens with a fruity (citrus and red berries) flourish of energy that unfurls into a jasmine-rose heart, the iconic hallmark of CHANEL Fragrance. The composition draws to a delicate close with comforting musk and iris notes.

The L'Eau Rouge formula contains 97% naturally derived ingredients.(1)

(1) Proportion of natural ingredients and derivatives calculated according to ISO 16128.
benefits
Enriched with red camellia extract, an active ingredient that boosts skin vitality, and camellia water, L'Eau Rouge scents, refreshes and energises, making skin look radiant and feel hydrated.
active ingredients
The camellia is showcased in all its forms at the heart of N°1 DE CHANEL, the new anti-aging skincare line.

Camellia water leaves the skin feeling fresh.

N°1 DE CHANEL is a beauty line that seeks to minimise its environmental impact with formulas, which contain up to 97% naturally derived ingredients(1) and 76% camellia-derived ingredients. They have been tested on all skin types, even sensitive skin.

(1) Proportion of natural ingredients and derivatives calculated according to ISO 16128
how to use
L'Eau Rouge can be worn like a perfume, on its own or before your signature scent, or as a fragrance mist.
Spray onto the body and décolleté to enjoy its refreshing and invigorating benefits, and to awaken the senses.
MRP


10ml Rs.1,200.00 Inclusive of all taxes 


20ml Rs.2,650.00 Inclusive of all taxes

30ml Rs.3,050.00 Inclusive of all taxes

Expiry Date

01/01/2026
Country of Origin

Italy
Net Qty


10ml/20ml/30ml

Marketed By


Perfume Samples No 1624 50 Feet Road Kumaraswamy Layout 1st Stage, Bengaluru 560078

Imported


BACCAROSE Perfumes & Beauty Products Ltd, 6th Floor, 66, Maker Chamber VI, Nariman Point, Mumbai- 400021 Contact Number 1800220949

Customer Care Address 


Perfume Samples.
No 1624 50 Feet Road Kumaraswamy Layout 1st Stage, Bengaluru 560078
E-Mail:  support@perfumesamples.in,
Customer Support- 8904117098


Commodity


Perfumes & Colognes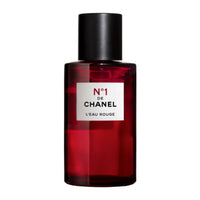 Chanel N°1 De Chanel L'Eau Rouge Sample/Decants
- 10ml Decant
Rs. 1,000.00