Mancera Red Tobacco Edp Unisex Decants/Samples

Sale
Rs. 949.00

Regular price

Rs. 1,200.00
Mancera Red Tobacco Eau De Perfume For Unisex - 120ml
Red Tobacco by Mancera is a Woody Spicy fragrance for women and men. This is a new fragrance. Red Tobacco was launched in 2017. Top notes are saffron, cinnamon, incense, nutmeg, white pear, green apple and agarwood (oud); middle notes are patchouli and jasmine; base notes are tobacco, amber, guaiac wood, sandalwood, haitian vetiver, madagascar vanilla and white musk.
Red Tobacco by Mancera is an incredibly potent, sexy tobacco fragrance with enough spice to turn the heat up on a cold winter's night. The opening is deceptively sharp and fresh, a one-two punch of leathery saffron and crisp apple, bathed in a haze of that smoky, medicinal Mancera oud. This phase smells like oud chips fermenting in a vat of honey – medicinal, slightly pungent, and deliciously sweet-n-sour.
But it's not long before the scent shakes off any semblance of freshness and melts into a thick, juicy amber that smells like a river of molten honeycomb coursing around pipe tobacco, dried plums, and fruitcake. Red Tobacco is so confidently spiced with nutmeg and cinnamon, it practically sizzles. With time, the sweet, rich pipe tobacco emerges from its bed of amber and spice to reveal itself as the true star. The bombastic sweetness of the scent is toned down a little by the slightly dirty, smoky oud note and a patchouli note that smells like damp dark chocolate. A naughty little cousin to Montale's Honey Aoud, Red Tobacco will warm your bones in winter and the blood of anyone who picks up your scent.
Mancera fragrances hold the secrets of the Orient, the endless desert, scorching sun, and timeless beauty. They are made with the most exquisite aromatic ingredients such as agar wood, precious resins, leather, or saffron. All Mancera perfumes will make you feel unique and indulgent.
The brand was founded in 2008 in Paris as an initiative of Al Athar, one of the biggest fragrance distributors in the Persian Gulf area, making Mancera perfumes some of the most authentic scents for any admirer of oriental fragrances.
Fragrance Notes :
Top Notes :

 

Agar Wood, Cinnamon, Green Apple, Incense, Nutmeg, Pear, Saffron
Middle Notes :

 

Jasmine, Patchouli
Base Notes :

 

Amber, Guaiac Wood, Haitian Vetiver, Madagascar Vanilla, Sandalwood,
MRP


10ml Rs.1,200.00 Inclusive of all taxes 


20ml Rs.2,650.00 Inclusive of all taxes

30ml Rs.3,050.00 Inclusive of all taxes

Expiry Date

01/01/2026
Country of Origin

Italy
Net Qty


10ml/20ml/30ml

Marketed By


Perfume Samples No 1624 50 Feet Road Kumaraswamy Layout 1st Stage, Bengaluru 560078

Imported


BACCAROSE Perfumes & Beauty Products Ltd, 6th Floor, 66, Maker Chamber VI, Nariman Point, Mumbai- 400021 Contact Number 1800220949

Customer Care Address 


Perfume Samples.
No 1624 50 Feet Road Kumaraswamy Layout 1st Stage, Bengaluru 560078
E-Mail:  support@perfumesamples.in,
Customer Support- 8904117098


Commodity


Perfumes & Colognes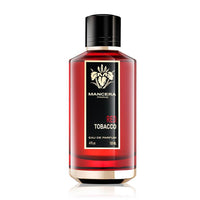 Mancera Red Tobacco Edp Unisex Decants/Samples
- 10ml
Rs. 949.00