Yves Saint Laurent Black Opium Illicit Green Eau De Parfum Sample/Decants

Sale
Regular price

Rs. 1,000.00
In 1977 Yves Saint Laurent introduces Opium: a boundary-pushing perfume. A revolution in a bottle. A new idea of femininity: sultry, provocative, enthralling.
Fast forward to 2014, and Opium's legacy continues to dazzle: Yves Saint Laurent Beauty unveils Black Opium, re-inventing desire in a new, contemporary light, reshaped for the modern woman. The Black Opium woman is embodied by YSL Beauty muse Zoë Kravitz.
Black Opium Illicit Green takes inspiration from the sensorial world of mixology, reinventing the ever-iconic Black Opium with an energising and refreshing twist.
Scent: Black Opium Illicit Green Eau de Parfum is a bold and unique collaboration between Black Opium Master Perfumer Nathalie Lorson, and award-winning Parisian mixologist Margot Lecarpentier. Together, they twisted Black Opium's original captivating floral gourmand scent with juicy green mandarin and creamy fig accord, making for a vibrant mocktail-inspired fragrance that invigorates all the senses. Energizingly fresh, just as captivating, and always with the unique YSL edge.
A dark, roasted coffee base, with warm balsamic notes from vanilla bourbon, is contrasted with the fruity and tangy qualities of green mandarin. Add in the green floral facets of jasmine and the sweetness of fig, and this electrifying combination of ingredients makes for a scent that is at once zesty, sparkling, creamy and sensual, and challenges gender stereotypes in fragrances.
Top notes: pear accord, green mandarin super essence, fig leaf accord
Heart notes: orange blossom absolute, jasmine grandiflorum super infusion, fig
Base notes: coffee accord, vanilla bourbon super infusion, patchouli essence, cedar essence
Bottle: A bottle as on-trend and enthralling as the scent itself. The neon green centre brings a modern edge to the signature Black Opium glitter-encrusted bottle.
Collection: YSL Beauty mixes ingredients and proportions, constantly re-interpreting Black Opium's coffee signature. Discover the YSL Black Opium fragrance wardrobe and indulge yourself or treat others to a YSL Black Opium gift.
Black Opium Eau de Parfum. The original Eau de Parfum. Featuring adrenaline-rich black coffee and sensual vanilla. Captivating and energising
Black Opium Eau de Parfum Illicit Green. A zesty take on the Black Opium signature. Green mandarin and creamy fig combine to create this 'mocktail in a scent'. Energising and fresh
Black Opium Eau de Parfum Neon. A vibrant spin on the original Black Opium Eau de Parfum. The signature coffee notes meet luminous dragon fruit. Fruity and vibrant
Black Opium Eau de Parfum Extreme. The Black Opium signature taken to the next level. Extra-black coffee, ultra-white flowers, and an abundance of patchouli. Exhilarating and excessive
Black Opium Eau de Parfum Intense. A bold interpretation of the Black Opium's coffee note, enhanced by the thrilling aura of blue absinth for intensity. Deep and seductive
MRP


10ml Rs.1,200.00 Inclusive of all taxes 


20ml Rs.2,650.00 Inclusive of all taxes

30ml Rs.3,050.00 Inclusive of all taxes

Expiry Date

01/01/2026
Country of Origin

Italy
Net Qty


10ml/20ml/30ml

Marketed By


Perfume Samples No 1624 50 Feet Road Kumaraswamy Layout 1st Stage, Bengaluru 560078

Imported


BACCAROSE Perfumes & Beauty Products Ltd, 6th Floor, 66, Maker Chamber VI, Nariman Point, Mumbai- 400021 Contact Number 1800220949

Customer Care Address 


Perfume Samples.
No 1624 50 Feet Road Kumaraswamy Layout 1st Stage, Bengaluru 560078
E-Mail:  support@perfumesamples.in,
Customer Support- 8904117098


Commodity


Perfumes & Colognes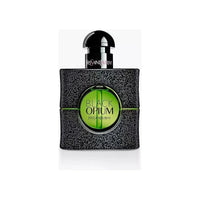 Yves Saint Laurent Black Opium Illicit Green Eau De Parfum Sample/Decants
- 10ml Decant
Rs. 1,000.00